Story 2003: Social Media and Internet /
Story 2001: Mothers Love
Once upon a time there was a family with a father, mother and two sons. Unike was
a small son and Aabiskar was the eldest son, both have a good character.
The sons often asked their parents for a mobile phone.
Their mother was ready to give the children a mobile phone because it was needed for their study.
But father was worried that the children will be using mobile for unnecessary things, so he was denying to provide mobile phone to the children.
After some time, father was tired of always asking for a mobile by Mother, and the 2 sons so, he bought a mobile phone for the children.
Mother was happy now, the eldest son was happier than his mother, and Unike, the youngest son, was the happiest of the whole family with the mobile.


Aabiskar only used internet and social media for essentials but Unike was always active on social media, he became addicted to social media. Slowly his good character changed. On school also his result and habits were change. All family members were worried about his condition. Father blame and scolded mother and the two sons. Mother blame and scolded the two sons. But Aabiskar never scolded his younger brother. Because he knew that by scolding to Unike would not help to bring change. He tried to talk to Unike, but only sometimes it helps.
Unike make more new friends on social media. There was also a gang active on social media, the members of the gang used fake profile photos and were very friendly to everyone. The guys from the gang made an appointment to supposedly play football, because unike like football very much. But when Unike arrived on the sports field, he saw that the boys looked totally different then their profile pictures on social media. The boys grabbed his cell phone and other things and ran. He came home crying, he went first to his brother, who always protected him. Scared, they went to their parents and told the story.
The family went to the police. Fortunately, Unike was able to describe the boys' appearance well and the police were therefore able to arrest the boy quickly. The family got the cell phone and other things back from the police.
Unike learned from his mistake and changed. Everything went well again. The family lived peacefully and happily. The police chief madam did not jail the gang boys.
She warns them and let them take Soul Blossom classes. Because they practice the values what they learn in the Soul Blossom class, they turned also in into guys of good character.

Questions of the story by Suweksha
1 Is it true that social media always spoil a person, if no then how can we turn social media beneficial for us and if yes then how?
2 Why Aabiskar didn't scold his brother? If you were in place of Aabiskar what would you do?
3 Do you have a mobile? Did your guardians also discus about before you get it?
4 Which part of the story do you like the most and why?

Moral of the story: We should not be addicted to social media and internet

Date and Writer of this story: May 2021, Rashu (SSSVM Gr8)
Questions of the story made by: Suweksha (SSSVM Gr8)
Game made by: Anish (SSSVM Gr8)
Story 2001: Mothers Love
Questions of this story:
1) What Raj's mother do when Raj became sick?
2) Why Raj became disrespectful to his mother?
3) From whom Raj's mother get help?
4) What did Raj expect from the villagers when he was returning back to village?
5) What else moral did you learned from this story?

6.Who helped the mother when she was in the hospital and why?
7.Why the mother became sick?

Questions about Mothers:
1.How do you help your mother?
2.Is your mother happy with your activities? what can you do to make her happier?
3.What is your planning for Mother's Day?
Moral: Always love and respect your mother. All the mothers are a form of God.
Date and Writer of this story: May 2021, Suweksha Jha (Student SSSVM Grade 8)
Questions of the story made by: Anish Khadka (Student SSSVM Grade 8)
Game made by: Rashu Karki (Student SSSVM Grade 8), The quiz has yet to be posted on the site
Story 2002: Money and Character
Once there was a family of mother, father, son of 25 years and a daughter of 21 years old. One day the father and mother decide to give some money to both of them to see how they spend it. The parents called both of their children and give equal amount of money. The amount was enough to start a business. From that money both of the children's open their own business.
The son was only focus on Money, so he spends the full amount for his new shop. His only goal was to earn more and more money. The profit what the son makes, he invests in his shop and for personal things for himself.
The daughter was focus on a good character. With the amount what is got from her parents she spent a part for a small shop (Smaller than her brother's shop) and with the other parts of the money she opens a charity.
The profit what She make, she plans to split in four parts. One part she invests in her shop, one part for charity work, one part for personal things and one part she buys gifts for her brother and parents.
Because the daughter has a good character, all consumers like her very much and buy always by her. She makes a lot of money in short time and extends here shop and here charity.
On the other hand, the son's business doesn't go so well, because of his habits. Costumers don't like him and don't buy by him. Without much income he could not pay the bills, lost everything and has to close his shop. He was very sad, angry and cry a lot.
When his sister notes this, she asks her brother to join in her shop and charity work to work together. Her brother aware his mistake and improve his character. Sister and brother became very successful in each field. Off course the parents were very happy and thank full to God to have so good daughter, who understand the important of life and make the whole family happy and successful.
Questions of this story:
1) How did son and daughter spend the money?
2) why did the consumer buy the things by sister always?
3) How did sister use the profit she made?
4) what do you think, why was brother unsuccessful in bussiness?
5) If your parents also give you money how will you spend it?
6) How important is money in life?
Moral: If our character is good, we will be successful in each field.
Date and Writer of this story: May 2021, Anish Khadka (Student SSSVM Grade 8)
Questions of the story made by: Rashu Karki, (Student SSSVM Grade 8)
Game made by: Radhu Karki (Student SSSVM Grade 8), The quiz has yet to be posted on the site
Story 2003: Social Media and Internet
Once in a small village, there was a family of mother father and son named Raj. Most of the time father have to go abroad due to his work. Raj was often ill, but mother take always care of him and often Mother did not sleep in the night to take care of Raj until he became fine.
It was really hard to handle the son after his father goes abroad but the mother never let the son feel like his father was not with him. Mother try always to do everything to make raj happy.
After some years Raj completed his study and get a nice job at the city. He left his mother in the village and went to the city.
In the beginning he talks often with mom in phone as he promises when he left the village, but as the day passed away, he talks rarely with his mom. Raj became more and more disrespectful to mother, he was busier with his career and new friends.
Mother tried contacting raj many times but as usual he didn't pick the call. After some time mother get sick. Especially because of tension of Raj manners. Mother ended up in hospital.
Fortunately, she got help from the other villagers. Due to the kindness and helpfulness behaviour of the villager that time Raj mother started helping other villagers when they need help.
After some time Raj return back to the village for some days. He expect that he would be welcomed with a lot of respect because he had high education (the highest in the village) and had a good job (made the most money from anyone of the village).
But to his surprise, the opposite was the case. The villagers looked at him disapprovingly and didn't even want to talk to Raj. When Raj realized his mistake and the reason behind his mother sickness and villager's angriness he regretted and gradually improved his character. After some time when the villager's see the change in Raj character, they start to love and respect him. Because of the love and respect of the villagers Raj also love and respect the villagers more than ever before.
Story 2004: Use of social media and our parents.
Kriti was the only daughter of Ramesh and Rita. She was in 5th standard when covid-19 attacked Nepal. Because of spread of corona virus, all schools started online classes. Her school also gave notice for online classes. Ramesh bought a new laptop for his daughter. He thought that his daughter is good in her studies so as a good father he should give her good facility. Kriti became very happy. For somedays she took online classes very nicely. But later one day her friend asked her to join a chat group. Slowly she started to be busier on online chat and started to play games like pubg also. She used to say to her parents she has classes all the time and sat on her room. She left to take her online classes and because of that she missed online exams. Then one day her class-teacher called her father and told everything about her activities. She was still trying to lie with her father but Ramesh couldn't believe her and got very angry with her. He took away laptop from her. Her mother also got very angry with her.
Now she felt it was her mistake. She betrayed her parents. She felt very bad about that and went to apologize with her parents. She said" Sorry mamma, Papa I betray you both. I will never do this again. I will be a good girl and make you proud. Please forgive me one time." Both Ramesh and Rita forgave her. Then she started learning nicely again.
In this lockdown too she has regular online classes. She has got very good marks in her exams. She has also joined Soul Blossom Classes.
Questions of this story:
1)....
2) ....
3)....
4) ....
5)....
Moral: Don't fool your parents, maak good use of internet and social media.
Date and Writer of this story: June 2021, Reshama RIJAL (Soul Blossom guru and SSSVM teacher)

Story 2009: Listen to Elders
Listen to Elders
There was a boy named Shiva. When he was young he was very talented. He used to get good marks in exams. He used to obey his elders. But when he was over 15 years old, his habit changed drastically. He didn't listen to his parents and elder. He followed the bad company. He got bad marks in the exam. He didn't study like before. Then he realizes his mistakes. He understood the importance of studying. Then he left bad friends and made good friends and begin to study nicely. Then he got good marks in another exam. He started obeying elders. Again he became a good person.
Moral:- We should obey our parents, we should make good friends and avoid bad company, and we need to work hard for better results.
Written by:- Bandana Gautam
Student of: S.S.S.V.M. Grade 08
Date: 2022, April
Story .... Sudama and Sagar
Part 1: Always be fully focus on what you are doing
Sudama and Sagar both had the same qualifications, and both started the same type of work in different companies after their studies.
Sudama's employer was so happy with him that he was always promoted and grew up the ladder in the company where he had started working.
Sagar's contracts were never renewed, it always ended after the trial period.
It was a Friday afternoon, Sagar's contract was also terminated at this 5th company. Sagar was sad, disappointed and angry. "Why did I not get a job, why is my contract never extended after the trial period?" He drove home in his car that he had received from his rich father, he was so upset that he didn't pay much attention to traffic. On his way home, he almost hit Sudama who went home from work on his bike, and who was very happy because he had been promoted, he became Manager today.
Because of Sagar's reckless driving, he had almost hit Sudama. Fortunately, Sudama was always only focused on what he was doing, so he saw the danger in time and managed to get himself to safety. His bike ends up in the ditch. Sagar was startled and felt guilty that he had not paid attention, he stopped his car and came quickly to Sudama and said: "Sorry, it's my fault, I did not pay attention to the traffic, I am so unlucky today. If you are in pain somewhere, I will take you to the hospital."
Sudama said: "No, I could jump off the bike just in time. Nothing has happened to me, just a small scrap, but I put a patch on it when I'm home. My bike ended up in the ditch". They went looking for the bike together, which had ended up in the ditch. Sagar: "Don't worry about that bike, you get a new bike from me". Sudama: "No, you don't have to waste money, why buy a new bike, when we can get it from the ditch"
Part 2: Sagar's character
Sagar was from a wealthy family and always got everything, often even without asking or making any effort. He attended one of the most expensive and luxurious schools in the country. Lessons were given in luxurious, large rooms with air conditioning and heating for when it became too hot or too cold. All students had their own separate tables and chairs with computers and all possible luxury. The school was focused on acquiring knowledge and finding a job that would enable students to earn a lot of money. Most students wanted to do as little as possible, but to earn as much money and quickly as possible. Little or no attention was paid to character improvement.
He also said that he was taken to school and picked up in one of his father's cars.

And that he drove past of Sudama former school, because the school is between his house and his former school. He always felt that the school was for poor people who would not achieve anything special in their lives. He felt better than those students and didn't even talk to them.
He was too rude, too quickly angry, too arrogant or did not speak politely to, especially, the people who had a lower job or money than himself.
Part 3: Sudama's character
Sudama said he came from a poor family. And that they didn't always have enough money for food, drinks, clothing and other basic things.
Sudama told about his former school, where soul blossom classes were also given. Fortunately, education at this school was free, because otherwise he would not be able to go to school. The study costs of the students of the school are raised by sponsors, these sponsors were especially happy and grateful to help because in this school, besides the usual subjects such as math, languages, etc., also Shree Sanjay Sai Soul Blossom (SSSSB) classes is given.
The Focus in de SSSSB classes is on the five human values with their sub values and the five D's.
Through the SSSSB lessons that focused on character improvement, the children who put the knowledge into practice (heart-work) became increasingly better.
Sudama also said that the founder set up this school as an example school, for the country and for the world. About the teachers, Sudama said that the teachers treat the students as their own children, brothers or sisters. And that the teachers were examples for the students. The students were happy and grateful to study at this school and did their very best. When there was a holiday, they were a little sad because they missed their teachers, other staff, and other students.

Sudama said that his work always promoted him, this was due to his character improvement by the SSSSB classes and of course also by the exemplary teachers and other staff of the school.
He started as a simple employee and always received promotions and today he was promoted to manager.


Part 4: The formerly poor Sudama offers rich Sagar a job

Sagar said that he now understood that due to his own personality he could never achieve anything and was not loved anywhere. He realized that wealth and luxury schools were not enough to deliver good students. He feels very sorry and promised himself and Sudama that he would change from now on.
Sudama was looking for a good colleague. He immediately invited Sagar the next working day to come to his office and start a trial period in the company where he was manager and responsible for hiring staff. Sagar was very grateful and happy, he thanked Sudama. His day, which he considered a sad day, now became an instructive and special day. Sudama told Sagar: "You are very special that you have realized so quickly how important character is. We must always remain vigilant and do our best" Sudama and Sagar became good friends and colleagues. Everyone in the company was happy with them.

Moral of the story: Human Values Make education complete.
Date and Writer: January 2022, Sunil Marapin
Today's game SSSSB2-2008: Let's play short bits of drama about Mira and Nira. (story 2018)
We can play the role of:
1) Nira and her unfriendly behavior with her colleagues
2) Nira who complains about manners of others but pays no attention to her own manners
3) Mira and the good way she treats her colleagues.
4) The owner of the company is happy with Mira and gives her promotion.
- etc.

Story: Date & Written by: July 2022, Sunil Marapin (SSSSB-Guru, SSSSO, Holland Chapter)
Game/drama: Date & Written by: July 2022, Sunil Marapin (SSSSB-Guru, SSSSO, Holland Chapter)
Game SSSSB2-2007:
Play the role of a Guru.
Take turns playing the role of a Guru and answer the questions of the participants in today's Soul Blossom class.
Date & Writer: June, 2022 / Sunil Marapin SSSSB-Guru, Holland chapter.
Game SSSSB2-2006:
Ask the opinion of the others.
Game rules : SSSSB2-2006 Ask the opinion of the others.
Choose a sentence and ask the others in the SSSB class to give their opinion on it.
There are 41 phrases to choose from, but you can also make up your own.

Date & Writer: June, 2022 / Sunil Marapin SSSSB-Guru, Holland chapter.
Game SSSSB2-2005:
Let's act feelings and emotions
Today's game: SSSSB2-2005 Let's act feelings and emotions
Everyone can take turns acting out a feeling or emotion from the photo.
We can also act out our own feelings and emotions that are not in the pictures.
The other will guess which feeling or emotion we are acting
Date & Writer: June, 2022 / Sunil Marapin SSSSB-Guru, Holland chapter.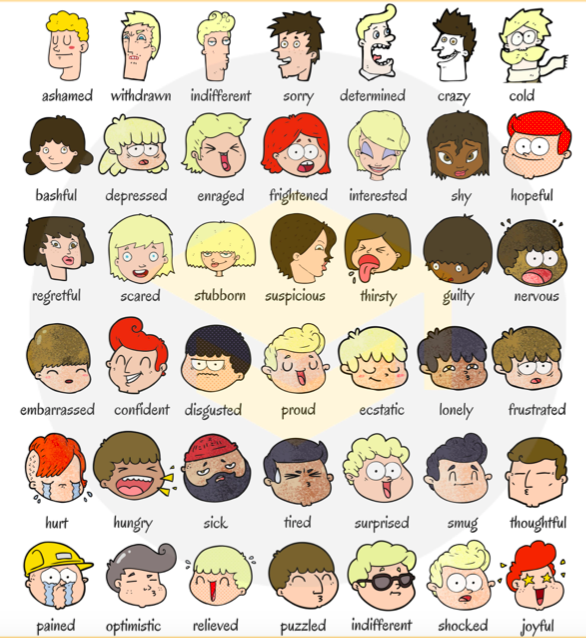 Game SSSSB2-2004:
ask the others from our SSSSB class about your manners

Everyone takes turns asking the others to say something about her or his manners.
The others tell good manners and manners what can improve about the questioner.

Date & Writer: June, 2022 / Sunil Marapin SSSSB-Guru, Holland chapter.
| | No | GUESS THE WORD | | No | GUESS THE WORD | | | | |
| --- | --- | --- | --- | --- | --- | --- | --- | --- | --- |
| | 01 | Hanuman Ji | | 21 | Chocolate | | | | |
| | 02 | Prince Laxman | | 22 | Lord Jezus | | | | |
| | 03 | Colorless | | 23 | God | | | | |
| | 04 | Elephant | | 24 | Holland | | | | |
| | 05 | Nepal | | 25 | Crying | | | | |
| | 06 | Lord Krishna | | 26 | Lord Sathya Sai | | | | |
| | 07 | Meena Ma'am | | 27 | Gita Ma'am | | | | |
| | 08 | Hospital | | 28 | Baby | | | | |
| | 09 | Seva | | 29 | Internet | | | | |
| | 10 | Lord Sanjay Sai | | 30 | Flowers | | | | |
| | 11 | Water | | 31 | Jealous | | | | |
| | 12 | Lord Buddha | | 32 | Green | | | | |
| | 13 | Angry | | 33 | Demon | | | | |
| | 14 | SSSVM | | 34 | Congo | | | | |
| | 15 | India | | 35 | Lord Rama | | | | |
| | 16 | Lord Shirdi Sai | | 36 | Soul Blossom | | | | |
| | 17 | Kusumaa | | 37 | Guru Daju | | | | |
| | 18 | Airport | | 38 | Grand Mother | | | | |
| | 19 | Zoom | | 39 | Mobile | | | | |
| | 20 | Viber | | 40 | Animals | | | | |
Game SSSSB2-2001: Two things about yourself

(One truth and one lie? Two truths? Two lies?)
One student child tells two things about himself.
-Both can be lies,
-Both can be the truth,
-One can be a lie and the other the truth.
The others must guess the correct answers.
Date & Writer: May, 2022 / Sunil Marapin (Guru Daru), SSSSB Guru, Holland chapter.
Game SSSSB2-2002: Guess the animal or thing (By asking questions)
We show the SSSSB students a list with Animals or things. A student in turn is the leader (has to keep discipline in the class) and introduces one of the words (or a own word), in her/his own way. The other student tries to guess the word by listening carefully and asking questions.
Date & Writer: May, 2022 / Sunil Marapin (Guru Daru), SSSSB Guru, Holland chapter.
Game SSSSB2-2003: Guess the word (By asking questions)
We show the SSSSB students a list with words. A student in turn is the leader (has to keep discipline in the class) and introduces one of the words (or a own word), in her/his own way. The other student tries to guess the word by listening carefully and asking questions.
Date & Writer: May, 2022 / Sunil Marapin (Guru Daru), SSSSB Guru, Holland chapter.